New Zealand Travel Log Day 1: Queenstown
(Click on any picture to open it up in a larger second window)
Well, it could be Day 2, if you count the travel time... We are writing this on Wednesday evening in Queenstown. We left JFK at 5 PM on Monday, and arrived here Wednesday at noon, for an elapsed travel time of 25 hours,
but we essentially skipped Tuesday.
We stopped in Tahiti for 90 minutes, landing at 1:30 AM local time, and departing 3 AM local time. It was 77 degrees Fahrenheit in the middle of the night, and reasonably humid. The airport didn't have walls on most rooms, just a roof to keep the rain out. We also spent about 90 minutes changing planes in Auckland. We casually walked from the international arrivals terminal to the domestic terminal, and Nancy smelled the flowers. The sun was shining and Nancy loved all the trees and flowers, but the Auckland sunshine was almost the last sunshine we would see for a long time.
Here's my trip report for Day One (or Day Two):
When we landed in Queenstown today, it was partial sun, but looked like rain was coming. By 2 o'clock it was pouring and hasn't stopped. Rain all day. Queenstown is in the mountains and far south, so it is also colder than we expected.
Our hotel is pretty fancy (Crowne Plaza). We have a top-floor suite with a gorgeous view of the lake in front and the mountain immediately behind. There is a balcony which will be great if it stops raining. The suite has a nice living room; it even has a dining room table; there is a second flat screen TV in the huge bedroom.
We rented a car and drove around in the rain. Went to two wineries in the Otago Valley, a growing wine region near Queenstown.
For an analysis of the grocery store, I documented some produce and lamb prices. All the food seems expensive to me, but that's my perception of food prices in many countries, where people spend a larger proportion of their disposable income on food.
The lamb chops seem very expensive, however, for this country of sheep.
As you can see, the unit price is NZ$27.54 per kilogram, which is NZ$12.50 per pound. That's not cheap. Salaries in NZ (paid in NZ dollars) are less than comparable jobs in White Plains (in US$). So a programmer making US$70,000 in White Plains would make about NZ$50,000 here. (And I can't imagine a programmer spending $12.50 per pound for lamb chops!).
As for produce, the prices were higher than we are used to, and the vegetables are much smaller than we have. The avocados are much smaller than ours. Tomatoes were all smaller. The heads of broccoli are compact.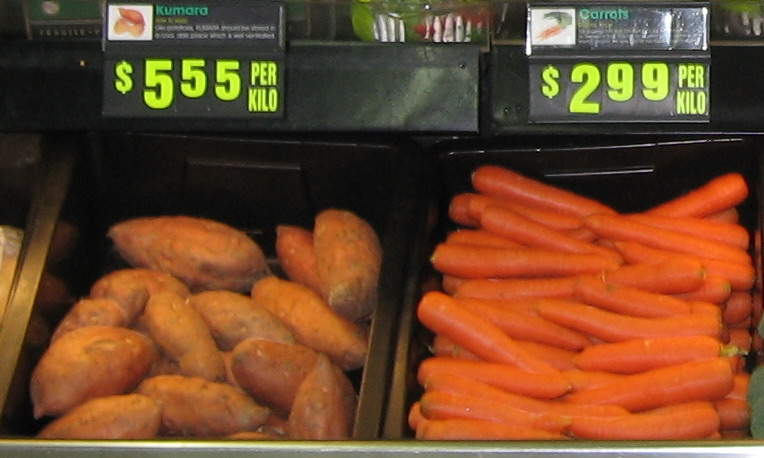 Remember these prices shown are per kilogram (equal to 2.2 pounds).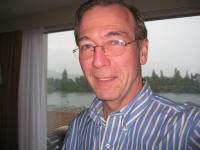 Nancy and I slept enough on the airplane, so we aren't too tired. But I do need a shave.
Oh yes, it is just 3 weeks until the summer solstice here, so the days are long. It is 9:30 PM and still daylight outdoors (although still raining).
As I mentioned, it is getting cold. Although today was reported to have been 20 Celsius, tomorrow's high is forecast to be only 12 C (which is low 50s Fahrenheit).
That's all for today's report.