December 7-9, 2006 -- We departed Auckland on Friday at 2 PM and (get this) landed in Tahiti on Thursday night at 8 PM. Love that international date line!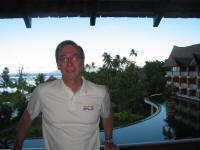 So we spent the first night in Tahiti at Le Meridien (a Starwood hotel) then traveled to the island of Moorea where we stayed at the Sheraton (another Starwood property). Our departure was at 10:15 PM Saturday night, so we had two full days in the French Polynesian islands. We did not visit Bora Bora, probably the best known and most expensive island, on advice of the locals who call it "boring Bora."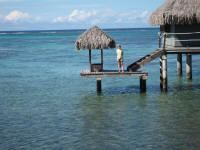 Everyone speaks French, although a Tahitian dialect. The local currency is Polynesian Francs (abbreviated FCP in Tahiti and XPF in international banking). I checked the exchange rate before we left the US; it was 91 per US dollar. Then before we left New Zealand, I noticed it had strengthened to 89 per US dollar. So from my point of view, things kept getting more expensive!
Needless to say, the biggest industry is tourism. The hotels are extremely expensive from our point of view, as are the restaurants. Taxi rates are fixed by the government: 2700 XPF ($30) to our hotel during day rates, and 3700 ($41) during night. Breakfast is typically $35 per person, and dinner at a restaurant called Te Honu Iti ("The Little Turtle") cost us $170.
Moorea is much prettier than Tahiti. The prices on both islands are very high (in our view). We rented an Avis car so we could see the entire island.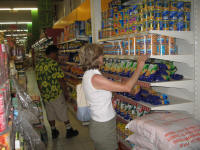 At the recommendation of locals, we found the grocery store on the other side of the island away from tourist areas. It was crowded with Polynesians (no obvious tourists except us) and the prices indicate what the local economy is.
For example, tomatoes (not great looking) and grapes (better looking) were each 730 FCP per KG, which translates to $3.69 per pound. Pricey. Diet Coke was $3.59 per bottle (standard 1.5L size), and regular Coke was $4.29. I found it interesting that regular Coke (Classic) was also more expensive in the vending machines.
The lamb chops were imported from (where else?) New Zealand. They are cheaper here than in NZ (at least in terms of US dollars), translating to $7.49 per pound. The label is clearly marked "Nouvel Zelande" (which a French woman assured us was simply an abbreviation for the proper spelling "nouvelle").
The "sister" island of Moorea is reachable by boat or airplane. There are various ferries, all of which are cheaper than by air, and more fun, we think. So we took the 30 minute (fast) ferry. A summer rain shower came through as we waited to board the boat, so hundreds of people huddled under a tent. Loading the luggage into fork-lifted containers was a most interesting process to observe (it worked OK but wouldn't be possible in the USA).
The boat ride itself was fun, fast, and windy. The recommended way to go.
There is only one real road on Moorea, and we drove its entirety in less than 2 hours, circumnavigating the island next to the ocean all the way. This is our Avis car in front of the Sheraton ($125 per day).
Tahiti is a poor country. There is no wealth at all to be seen. Homes are little more than basic shelters. Most look like shacks (although to be fair there are a few 'classy' homes). Even in Moorea, where we expected to find some "fancier" homes, we saw none.
Lunch on our last day was at a cute restaurant on a boat, called Linareva, located at the "far end" of the island, so we thought it might be more for locals. Not really. (Remember this is a tourist economy.)
Bottom line on Tahiti: we have "been there, done that." Yes it is an exotic South Pacific paradise. Just remember that it is very pricey, and there really isn't much to do except beach stuff. And the internet connectivity as of 2006 is poor: slow and expensive where it is available. So for me it's a place to visit for a day or two. C'est tout.